President Hosni Mubarak ordered tanks and troops in Egypt to enforce a curfew (6pm-7am) in Cairo, Alexandria, and Suez as clashes continued between police and protesters. In Cairo especially, protesters defied the curfew and found themselves up against a slew of tanks and troops ordered to clear the streets overnight. Amid the chaos, looters managed to break in to the Egyptian Museum, causing considerable damage and making off with various artifacts.
Mohammed ElBaradei was placed under house arrest after he and his supporters were attacked early in the day by police manning water cannons. They were eventually surrounded in a Giza mosque, which was besieged by hundreds of riot police firing tear gas and water cannons to prevent anyone from leaving.
The National Democratic Party headquarters in Cairo was set on fire and destroyed after the ruling party imposed a near-total blackout on communications in Egypt (including phone and internet access) in preparation for the massive protests that were planned for today. Protesters also ransacked NDP offices in Mansoura and Suez.
In an unprecedented measure to counter press coverage of the protests sweeping the nation, Egyptian authorities almost wholly disrupted mobile telephone and internet services.
Egypt's media blackout visualized: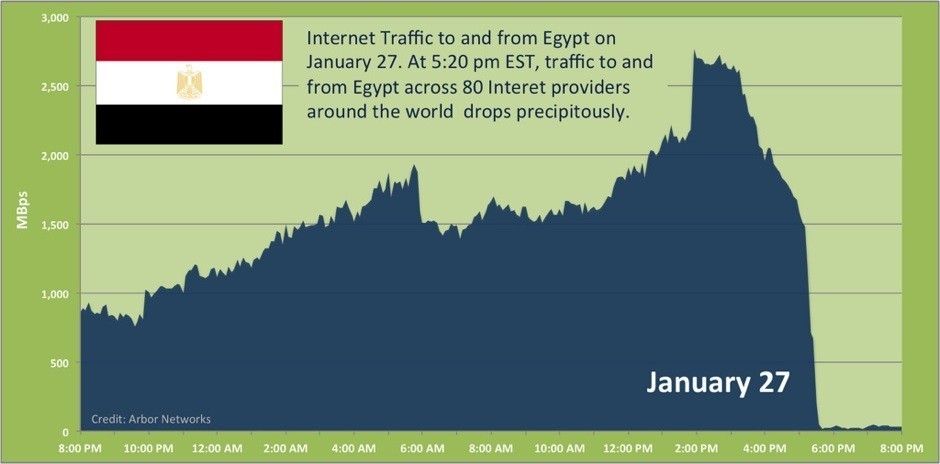 President Mubarak appeared on state television to try to calm protesters by claiming that he will replace government ministers. Mubarak also called the mass protests "part of a bigger plot to shake the stability [of Egypt]"before declaring that he "will not shy away from taking any decision that maintains the security of every Egyptian."